Facilities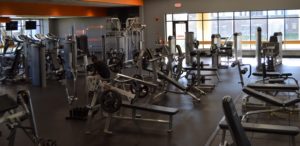 The Fitness Center is fully equipped from brands including Cybex, Lifetime Fitness, and Technogym. Located in the Schaefer Center across the hall from the indoor track it features 15 cardio stations ranging from treadmills to spin bikes. As well as a Cybex strength circuit with free weights, 2 squat racks, 3-4 bench press stations as well as an incline/decline bench, the center also features a free weight section and yoga room perfect for stretching out and doing core work.
Cardio
Elliptical (5)
Treadmills (4)
Upright Bike (3)
Recumbent Bike (2)
X Bike (spinning bike)
Indoor running track (1/11 mile)
Strength
Squat racks (2)
Plate loaded squat press
Olympic Bench Press
Olympic Incline Press
Olympic Decline Press
Leg Press
Leg extension
Seated leg curl
Hip Abduction/Adduction
Abdominal
Back Extension
Lat Pulldown
Biceps curl
Chest Press
Fly/Rear delt
Row
Shoulder Press
Triceps Press
Dumbbells (5lb-100lb)
Kettlebells (5lb-50lb)
And More!