Our Staff
Students who get involved on campus will soon become familiar with the staff of the Office of Student Engagement because they are out and about wherever something is happening. Look for them at events, movies, intramurals, and student organizations' meetings.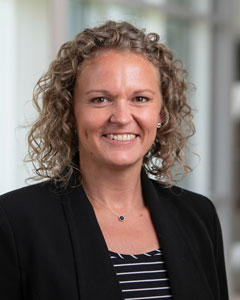 Bethany Ballard
Director of Student Engagement
phone: 260.422.5561, ext. 3440
email: BABallard@IndianaTech.edu
office: Student Affairs Suite, Andorfer Commons 1st Floor

The Director of Student Engagement is responsible for developing, coordinating, promoting, implementing, and assessing campus programming for an engaged student experience outside the classroom for both residential and commuter students. The Director's role develops campus programming which encourages students to participate in co-curricular activities, campus governance, develop healthy interpersonal relationships, use recreational time productively, and to explore activities in individual and group settings. This position also develops the student organization culture and infrastructure and as such, must maintain current knowledge of student organizations, student government, and social fraternities and sororities.
Student Engagement includes programs, movies, student organizations, student government, major campus events, intramurals, the recreation center, and fitness center.